Optimum Planlama provides consultancy services on a number of specific topics within the context of supply chain management.

We offer business analysis services, process improvement and reengineering projects to our clients in various industries.
Increasing organizational performance can be achieved by properly structuring the planning processes within the organization and by continually improving the operational processes.
We focus mainly on the following processes:
– Sales and Operations Planning
– Demand Planning and Forecasting, Pricing
– Production Planning and Scheduling
– Inventory Management
– Warehouse and Logistics Planning
– Purchasing and Procurement Planning
– Determining and Tracking Key Performance Indicators
– Operational Business Processes Engineering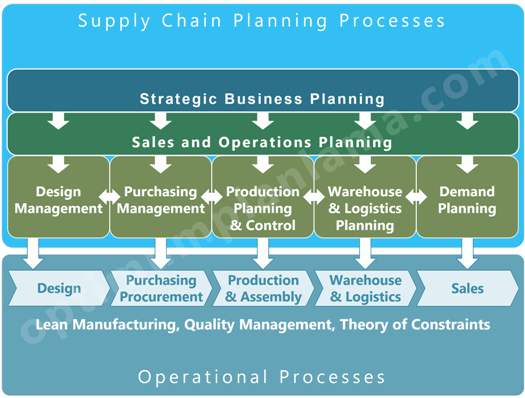 Optimum Planlama executes Supply Chain Development Projects with its clients to meet strategic business goals and achieve competitive advantage.
Activities carried out in this respect can be summarized as:
– Business process analysis, improvement and action plans
– Process improvement and restructuring
– Structuring and development of required tools (*)
– Developing qualification and skills for employees
– Implementation and control
Please contact us for more information on how we can contribute to your success.
* Important Note: Optimum Planlama does not promote any software solution. Only in the cases where software is decided to be compulsorily within the scope of Supply Chain Development Projects, consultancy services are provided to determine technical capabilities of such as data storage, data processing and reporting that should be in software and to prepare technical specifications (RFP).
---